Back when the stay-at-home orders began and Churches closed for the time, we decided it was a perfect opportunity to put a little more effort into making Sundays special.  Thus, Sunday Night Special (#sundaynightspecial) came about!
We wanted it to stand out, as a day in the week that was not only for rest and family time, but one in which dinners and watching Mass together became a focus.  So, what was going to make it different than any other dinner or any other day?  Just a few tiny additions and a little planning.
Here are a few ways to bring Sunday back…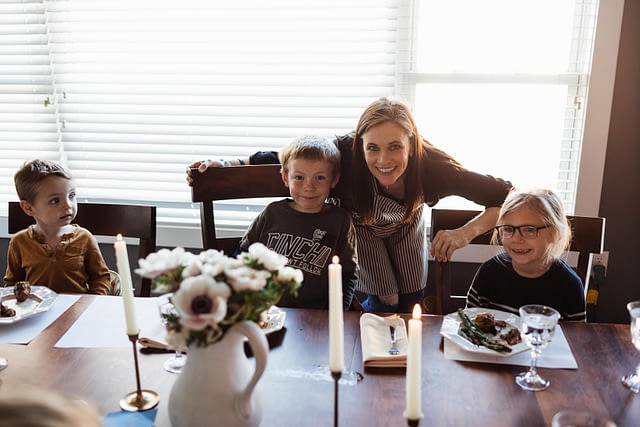 1.  Sit down for a meal together, as a family.  Bring out the fancier dishes.  Maybe even the wine glasses.  Use placemats – our kids just colored pieces of paper for each person.  Maybe even turn some background music on.  Let your kids dress up!
2. Do a little planning.  Choose a recipe that's a family favorite, or try a new one!  It's even more fun when you can get everyone to help in their own way.  Make a special dessert.  Here are a few we have tried and loved: Key Lime Pie Jars, Skillet Cookie, Chocolate Cobbler, Cream Cheese Pound Cake.
3. Light candles.  Even if it's still daylight.  It just makes it a little less ordinary.
4. Gather together for some family time.  If you still cannot participate in Church, find a livestream.  Read aloud from a book you've been wanting to read as a family.  Play a board game.  Go for a walk.  Or, take a much needed nap!
5. Let the "shoulds" go.  Don't do the things you feel you must do to stay afloat.  Let the housekeeping and small daily tasks play second fiddle to the priority of rest.  It's the end of the week, time for a reset.  And, time to enjoy each other's presence.  It will be worth it, I promise.
I know it's difficult to change routines.  And sometimes, adding anything to a day just seems like extra work.  But, if the day is spent in rest, and the family can pitch in where they're capable, making Sundays a priority for family, and dinner around a table is worth every bit of effort.  Again, it does not have to be extravagant…just done with love.  That is what it is for.  And, that is what they will remember.
Bring Sundays back, and tag us with #sundaynightspecial so we can not only do this as a family, but as a community!