I think it's so easy in the times we live to compare…to constantly think of what we should be doing and inadvertently focus on what we are not. We associate more with better and less with not enough. We try to do it all and often fall short, because frankly, we aren't supposed to be doing it all.
I run an instagram page that promotes our Bell Road Beef. When I look around at similar pages and those of women in ag, I often see a lot more photos and stories of them in the midst of the daily ag life, and at times, I think I should be doing more of that…showing our animals, the daily grind of feeding, and the caring for and maintaining of their schedules. Instead, I'm posting what I cook for lunch, what the kids are learning, and the quirky moments of raising a household of little ones, with the occasional beef box on special.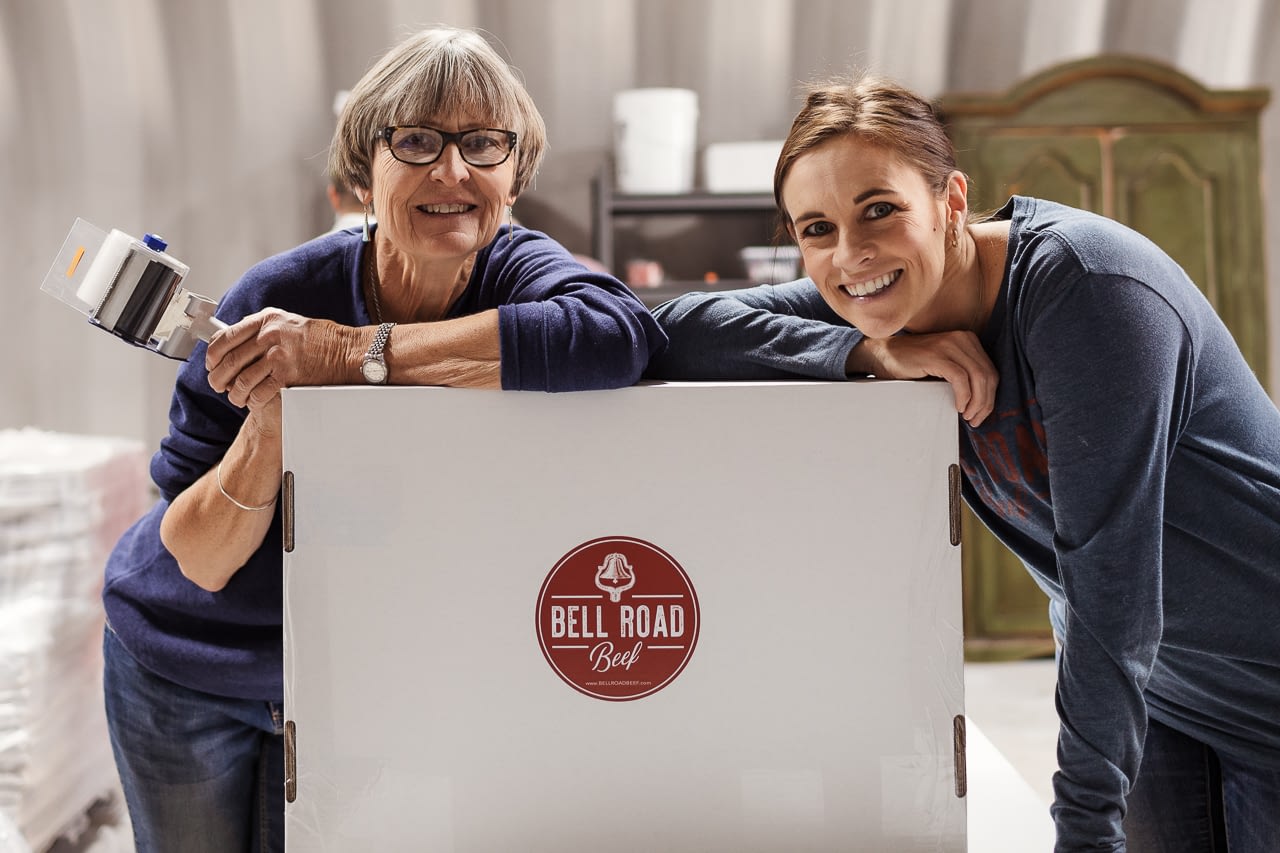 It was when JaTanna of ranchwivesbeefco posted last week about "being enough" even if you were feeding those cattle in your Lululemon pants that I began to think of the standards we use to measure our worth and where our worth really should lie.
I am a ranch wife. I am a rancher. A fifth-generation rancher to be exact. I've been up before dawn gathering cattle. I've been out in a blizzard to feed cattle. I've been bucked off a horse. I have even helped pull a calf that would have died and possibly killed its mother if my parents weren't there to help both of them. Yet, I've never owned a cowboy hat. I've only worn spurs a couple of times. I never thought I would come back to this way of life, and I would pride myself on the number of times after high school that I received the comment, "You don't look like a rancher."
But now, as I have "seen the world" and been back on the ranch for ten years, I have a much different perspective. We chose to come back to this. Actually, my husband chose it…having never been part of agriculture but wanting this life for our marriage and our family. And, here we are seven children later, living a life people often see as one of two things: 1) a fall-back job for the uneducated or 2) a life like that portrayed in the best of movies…where days are spent on the front porch, watching the cattle graze through nature without much more to do than entertain guests. Neither of which are true.
But another thing that isn't true…appearances. Which brings us full circle to where I started. I don't show as much of the daily life with the animals, because I'm not out there. I don't go out to feed, when I do, in my hat and wranglers, because I don't own either. We rarely go out as a family to do the daily work, because we can't all fit in the truck, ha! That is not the season I am in.
So what does life as a ranch wife look like now? Much like that of a mother. I am in the house most of the day, planning meals that will nourish my family. When the men and helpers (and sometimes the older kids) are out gathering cattle for a branding, I'm up the night before making breakfast burritos and the next day preparing a hot meal for the lunch break – something I learned from the greatest example who in now doing both the cooking and the work – my mom. I'm teaching the kids how to read so that eventually they can be much more helpful when they do get to go with Dad. I'm making sure the babies get their naps, and I'm keeping a home.
And the truth is, while I sometimes wonder if I look like the authentic woman of ag in the instagram world, I really love this much more. I love that an apron hangs around my neck most of the day, that my vocation can be lived within the four walls where our kids' foundations are built. I love the ordinary, and the ways I can work in the shadows (even when I some days don't see the blessings surrounding me). I love that I get to be this ranch wife. The one in skinny jeans, a branded sweatshirt, my sister's gifted stylish shoes…the one who looks a lot like a housewife and mother. Because…I am.
Wherever you are in your life, your vocation, your journey, find your worth in being exactly where you are meant to be, living a life made for you…even when it might not meet up with the vision of this world.
Let just being what you are made to be shout so joyfully in the direction of your greater calling that appearances fade into the background much like the world which creates them.